Recent Posts by Dope D.O.D.
Słoń & Dope D.O.D. "Make Em Bleed" video out now!
Prod. Chubeats – Scratch: DJ Soina
"Sick6Six" EP with Słoń dropping february 14!
"Sick6Six" EP with Słoń dropping february 14!
Pre-order your copy here now: https://vulgarus.pl/kolekcja/slon-x-dope-dod
Contra-Banned video out now! Created by Blacksoulever.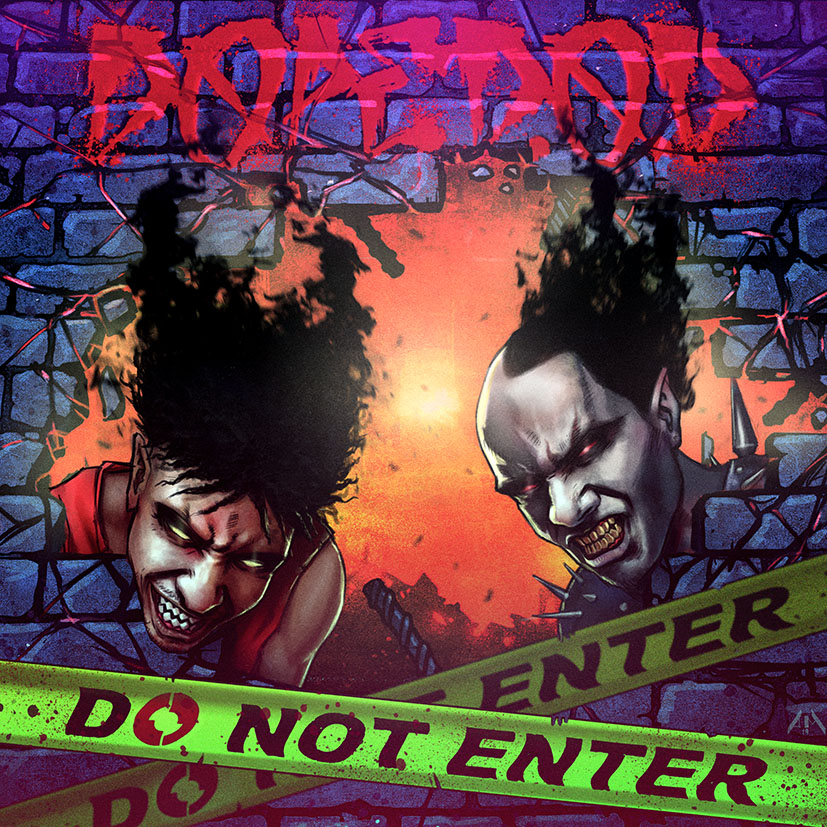 We are proud to announce "Do Not Enter" is out on all platforms!!! Share it! Blast it! Steal it or buy it!!! Just let your neighbours today is the day our new album dropped!!! And let us know your favorite track🔥🔥🔥 #DODARMY #DONOTENTER
Do Not Enter Tour France / Italy 🇫🇷 🇮🇹 2020
Do Not Enter France Tour 🇫🇷
03.04 aux 4 Ecluses – Dunkerque
Tickets : https://billetterie.4ecluses.com/?id_event=446
04.04 à la MJC du Verdunois – Verdun
09.04 à la Case à Chocs – Neuchatel (CH) Infos : http://www.case-a-chocs.ch/…/fr/agenda/2020/04/09/dope+d.o.d.
10.04 à La Rodia – Besançon
11.04 à La Cave à Musique – Macon
Tickets : https://www.weezevent.com/dope-dod-1ere-partie
12.04 au Festival Reperkusound – Lyon
Tickets : http://www.reperkusound.com/billetterie/
17.04 à La Cordonnerie – Romans
Event FB : https://www.facebook.com/events/2046499832120319/
18.04 au Molotov à Marseille
24.04 à l'Ampli – Billère
25.04 Le Sans Réserve – Périgueux
27.05 au Tétris – Le Havre
28.05 Paul B – Massy
Tickets : https://billetterie.paul-b.fr/e…/28-05-2020-20-30-dope-d-o-d
29.05 Les Cuizines – Chelles
Do Not Enter Italy Tour

🇮🇹

Februari 2020
20.02 Officina Degli Esordi – Bari
21.02 Photon Club – Sforzacosta
22.02 Bocciodromo – Vicenza
23.02 Legend Club – Milan
Do Not Enter – Combopack Pre Order ( Limited Supply)
DOPE D.O.D – DO NOT ENTER BUNDLE
PRE ORDER FOR JANUARY 31st!!!*
DOPE D.O.D Shirt plus the new limited Do Not Enter CD and a real Picture Print signed by DOPE D.O.D!
Available from Size M to 3XL.
Color: Black
Front: Big screen print (Red / White)
Material: 100% Cotton
190 GSM
* Pre Order Means the date of the Pre Order Date is the actual Shipping Date. Might be some days before or after. Please allow a couple of days for shipping from Germany
New album 'Do Not Enter' dropping 27 december!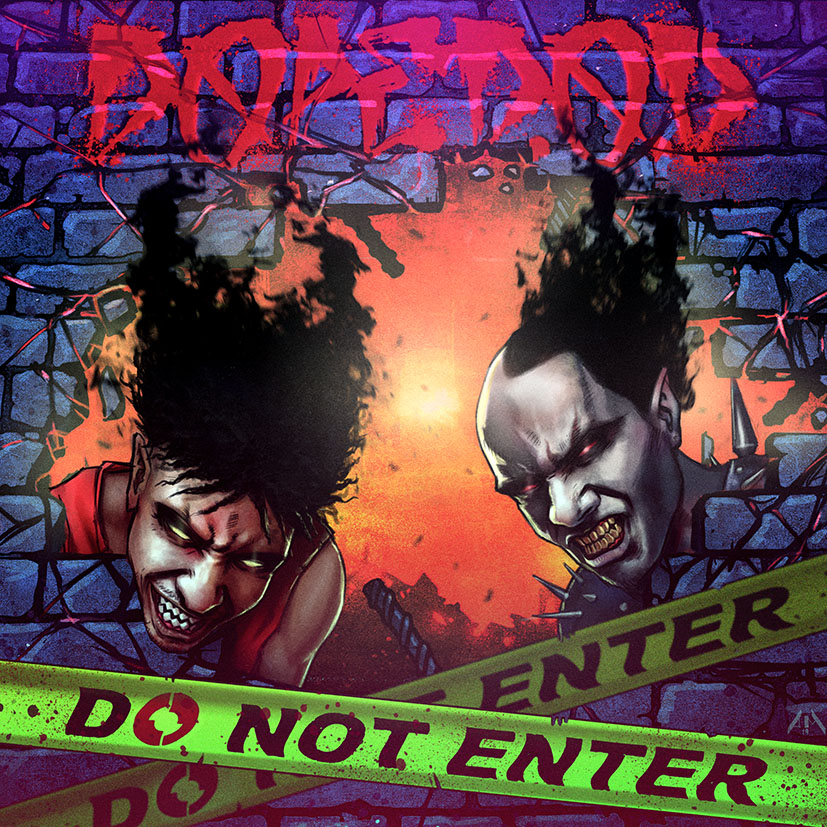 First reveal! The cover of our new album dropping on 27 December.
Titled: "Do Not Enter" Y'all know what time it iz 😈🔥
Pre order a physical copy now @ https://www.plastichead.com/item.aspx?catno=DOPEDOD1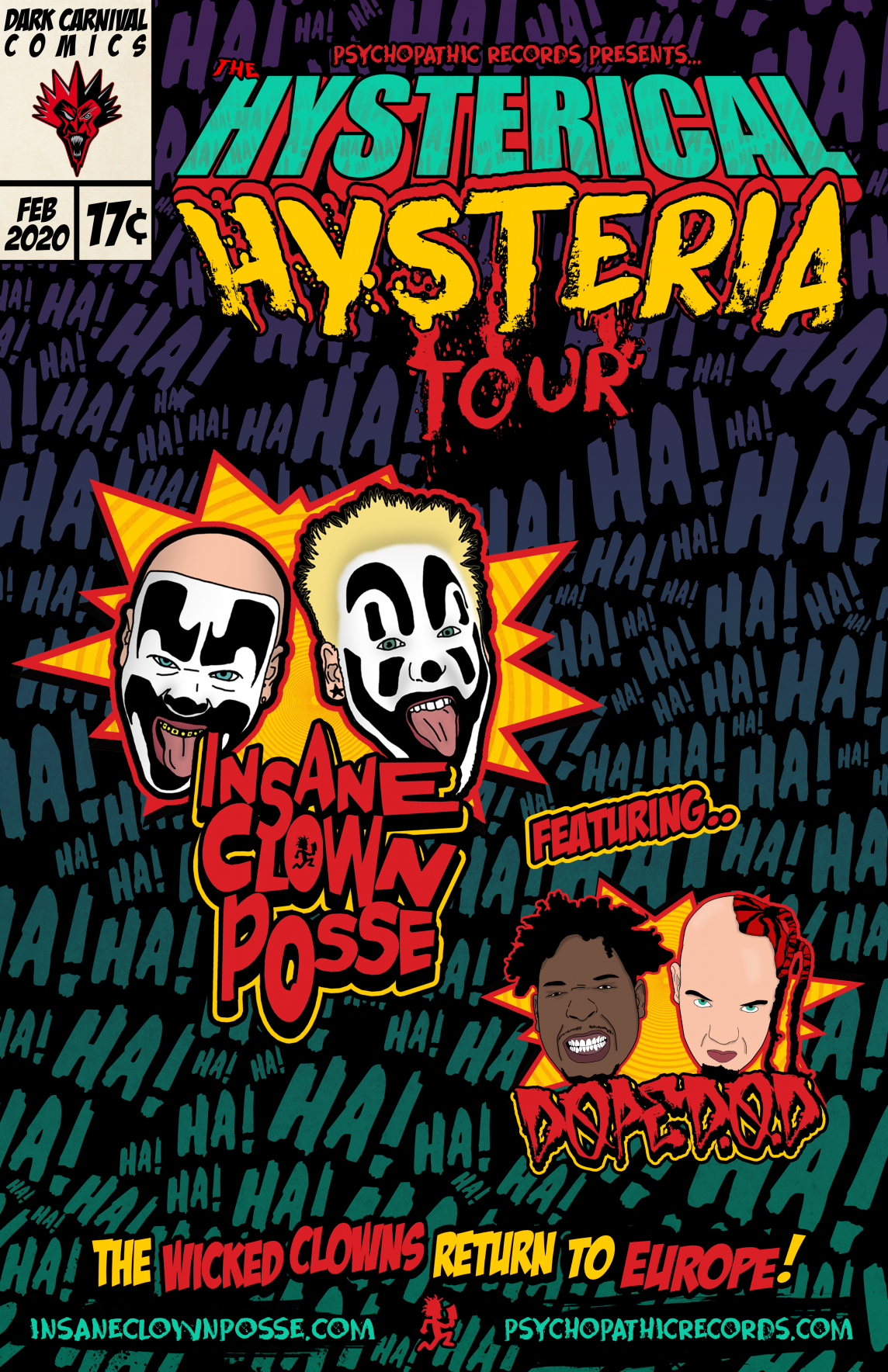 Juggalos! The Wicked Clowns make their return to Europe  2020! Catch Insane Clown Posse
alongside the devastating duo, Dope D.O.D.! Come join in on the madness and witness the Hysterical
Hysteria!
Insane Clown Posse's 2019 album, "Fearless Fred Fury" smashed Billboard charts and is available everywhere.
DOPE D.O.D's new album is due December 2019, and their latest single "Scooby Doo Gang" was released in June 2019.
THE HYSTERICAL HYSTERIA TOUR
www.insaneclownposse.com
www.dopedod.com
INSANE CLOWN POSSE Online:
www.insaneclownposse.com
www.youtube.com/user/PsychopathicVideo
https://spoti.fi/2nuZFuU
www.facebook.com/INSANECLOWNPOSSE
DOPE D.O.D Online:
www.dopedod.com
www.youtube.com/user/DopeDOD
https://spoti.fi/2nuZFuU
www.facebook.com/dopedoddopedod