The Whole Planet Shifted out now!
It's been a long, confusing, frustrating, agonizing 2 years of bullshit going on around the globe… But if anything good came from this Covid shit… It's the fact we had to the time to go back to the drawing board and create an album that was worth the wait!
We took it back to the essence with this project. There's not a single song on this album that is not a chapter to the entire story. Nothing but killer features, nothing but bangers meticulously composed by
Chubeats
And now… The wait is over! We present our new album "The Whole Planet Shifted" to the world!
Do Not Enter – Combopack Pre Order ( Limited Supply)
DOPE D.O.D – DO NOT ENTER BUNDLE
PRE ORDER FOR JANUARY 31st!!!*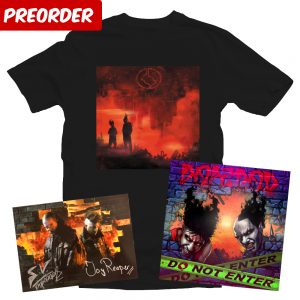 DOPE D.O.D Shirt plus the new limited Do Not Enter CD and a real Picture Print signed by DOPE D.O.D!
Available from Size M to 3XL.
Color: Black
Front: Big screen print (Red / White)
Material: 100% Cotton
190 GSM
* Pre Order Means the date of the Pre Order Date is the actual Shipping Date. Might be some days before or after. Please allow a couple of days for shipping from Germany
New crew snapbacks available now
Finish off your looks with the 'Crew' Snapback from Dope D.O.D.  This flat billed hat comes in black and features a red logo patch at the front crown for added style and with the band name on the back also in red.
Webstore > www.dopedodstore.com upgraded and updated
New Webstore live! Go to https://www.dopedodstore.com and check out our merch, and more items on the way … 
?
? #systemreboot#dodarmy
Have a look and let us know what you think. Also be sure to suscribe to our newsletter which contains exclusive news and more.